Upcoming Events
Date/Time
Event
09/22/2023
10:00 am - 5:00 pm
Free Day Friday! at Mascot Hall of Fame- Whiting
09/23/2023
10:00 am - 4:00 pm
Illiana Garden Railway Model Train Museum
Sunset Hill Farm County Park, Valparaiso IN
09/23/2023
4:00 pm - 9:00 pm
Valpo Brewfest - Valparaiso
Central Plaza, Valparaiso IN
09/23/2023
5:00 pm - 9:30 pm
Blues, Brews & BBQ
Lake County Fair Grounds, Crown Point IN
09/23/2023
7:00 pm - 11:00 pm
Devils Road Haunted Bus Tour - South Lake County
Crown Point Courthouse, Crown Point IN
09/23/2023
7:30 pm - 10:30 pm
Crown Point Haunted Pub Crawl
Hall of Justice, Crown Point IN
09/28/2023
4:00 pm - 8:00 pm
Crown Point Car Cruise
Bulldog park, Crown Point IN
09/28/2023
7:00 pm - 11:00 pm
Spooky Cemetery Ghost Hunt - Chesterton
Indiana Dunes State Park Visitor Center, Chesterton IN
09/29/2023
10:00 am - 5:00 pm
Free Day Friday! at Mascot Hall of Fame- Whiting
09/29/2023
7:00 pm - 9:00 pm
Century of Progress Talks
Indiana Dunes State Park Visitor Center, Chesterton IN
09/29/2023
7:30 pm - 9:00 pm
All Ages Haunted Walking Tour - Crown Point
09/30/2023
9:00 am - 3:00 pm
9th Annual UMW Fall Arts & Crafts Show
LaPorte County Fairgrounds, LaPorte IN
09/30/2023
10:00 am - 4:00 pm
Illiana Garden Railway Model Train Museum
Sunset Hill Farm County Park, Valparaiso IN
09/30/2023
6:00 pm - 11:00 pm
Haunted Hayride - Whiting
Whihala Beach, Whiting IN
09/30/2023
7:00 pm - 10:00 pm
Lake County Chiller Bus Tours
Crown Point Courthouse, Crown Point IN
10/06/2023
10:00 am - 5:00 pm
Free Day Friday! at Mascot Hall of Fame- Whiting
10/06/2023 - 10/07/2023
2:00 pm - 10:00 pm
Oktoberfest - Crown Point (Octoberfest)
Crown Point Farmers' Market, Crown Point IN
10/07/2023
10:00 am - 4:00 pm
Illiana Garden Railway Model Train Museum
Sunset Hill Farm County Park, Valparaiso IN
10/07/2023
12:00 pm - 5:00 pm
Autumn Promenade - Downtown Valparaiso
Downtown Valparaiso, Valparaiso IN
10/13/2023
10:00 am - 5:00 pm
Free Day Friday! at Mascot Hall of Fame- Whiting
10/13/2023 - 10/14/2023
11:00 am - 11:00 pm
Wickedly Whiting
Whiting Robertsdale Chamber of Commerce, Whting IN
10/13/2023
7:00 pm - 10:00 pm
Lake County Chiller Bus Tours
Crown Point Courthouse, Crown Point IN
10/14/2023
10:00 am - 4:00 pm
Illiana Garden Railway Model Train Museum
Sunset Hill Farm County Park, Valparaiso IN
10/14/2023
4:00 pm - 6:00 pm
Trunk or Treat - Valpo
Sunset Hill Farm County Park, Valparaiso IN
10/14/2023
7:00 pm - 11:00 pm
Porter County Terror Bus Tour
Porter County Museum, Valparaiso IN
10/20/2023
10:00 am - 5:00 pm
Free Day Friday! at Mascot Hall of Fame- Whiting
10/20/2023
7:00 pm - 10:00 pm
Lake County Chiller Bus Tours
Crown Point Courthouse, Crown Point IN
10/21/2023
10:00 am - 4:00 pm
Illiana Garden Railway Model Train Museum
Sunset Hill Farm County Park, Valparaiso IN
10/21/2023
7:00 pm - 11:00 pm
Devils Road Haunted Bus Tour - South Lake County
Crown Point Courthouse, Crown Point IN
10/21/2023
7:00 pm - 11:00 pm
Porter County Terror Bus Tour
Porter County Museum, Valparaiso IN
10/27/2023
10:00 am - 5:00 pm
Free Day Friday! at Mascot Hall of Fame- Whiting
10/28/2023
10:00 am - 4:00 pm
Illiana Garden Railway Model Train Museum
Sunset Hill Farm County Park, Valparaiso IN
11/03/2023
10:00 am - 5:00 pm
Free Day Friday! at Mascot Hall of Fame- Whiting
11/10/2023
10:00 am - 5:00 pm
Free Day Friday! at Mascot Hall of Fame- Whiting
11/11/2023
12:00 pm - 4:00 pm
La Pour Brew Fest
LaPorte Civic Auditorium, LaPorte IN
11/17/2023
10:00 am - 5:00 pm
Free Day Friday! at Mascot Hall of Fame- Whiting
11/24/2023
10:00 am - 5:00 pm
Free Day Friday! at Mascot Hall of Fame- Whiting
11/26/2023
7:00 pm - 9:00 pm
Vienna Boys Choir Christmas Concert
Chapel of the Resurrection, Valparaiso IN
12/01/2023
10:00 am - 5:00 pm
Free Day Friday! at Mascot Hall of Fame- Whiting
12/09/2023 - 12/10/2023
10:00 am - 5:00 pm
Shipshewana On The Road
Porter County Expo Center, Valparaiso IN
Local Business Directory
Indiana Dunes National Lakeshore: Joseph Bailly Homestead, Chellberg Farm, and Little Calumet Trail System
Indiana Dunes National Lakeshore: Joseph Bailly Homestead, Chellberg Farm, and Little Calumet Trail System
Highway 20 & Mineral Springs Road
Porter
IN
46304
United States
work
Work Phone
:
(219) 395-1882
work
Website
:
http://www.nps.gov/indu/planyourvisit/bcvc.htm
Biographical Info
The Bailly Homestead, a National Historic Landmark, was the home of Honore Gratien Joseph Bailly de Messein (1774 – 1835). Bailly played a role in the development of the Calumet Region of northern Indiana. He was an independent trader in the extensive fur-trading network that spread from Montreal to Louisiana, and ultimately to Europe. Joseph Bailly was one of the earliest settlers in northern Indiana. In 1822 Bailly set up his fur trading post at the crossroads of several important trails, including the Tolleston Beach and northern branch of the Sauk Trail. He provided a meeting place for Native Americans and Euro-Americans. Except for White Pigeon, Michigan, Bailly's trading post was the only stopping place for travelers and missionaries between Chicago and Detroit. The Bailly Homestead complex is the last remaining site of its nature in the Calumet Region, both in its capacity as a fur trading post and in its vernacular architectural features and construction types. The Bailly Homestead was authorized as a National Historic Landmark in 1962.Bailly acquired formal title to the Homestead and the surrounding tracts of land, totaling over 2,000 acres, in the 1830's when the Calumet Region was officially opened to Euro-American settlement. At his death title passed to his family. The Homestead proper was left to his wife and segments of the acreage to each of his children.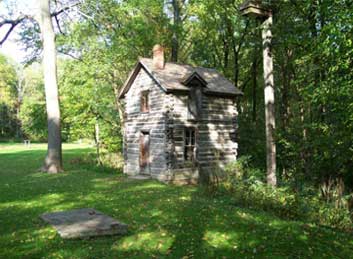 In 1843, after the death of Bailly's daughter Esther, management of the Homestead was assumed by Francis Howe, the husband of daughter Rose Bailly. Under Howe's management the Homestead was again influential in the development of the area, as Howe sold timber from the land to be used in the construction of the nearby railroad. Upon Howe's death in 1850 Joel Wicker, husband to another Bailly daughter, Hortense, assumed management of the Homestead. It was under Wicker's management that the area surrounding the Homestead was settled. In an effort to continue providing timber to the expanding railroad Wicker recruited Swedish immigrants, then living in Chicago, to move to the area and operate the sawmill. Not only did the Swedes cut timber and operate the sawmill, they purchased land from the Bailly-Howe family and settled farms, bringing Swedish culture to northwest Indiana. Several log cabins, possibly dating to the 1860's and probably of Swedish origin, are located on nearby farms that were once part of the Bailly Homestead.
The Homestead brings together an unusual combination of vernacular architecture with the imposing main house, featuring late 19th century architectural detail, the rustic log and brick structures, and the unusual family cemetery.
(Paraphrased excerpts from the National Register Nomination, 1972, and the Bailly Homestead Historic Structures Report, Denver Service Center, National Park Service, November 1972.)
Categories:
Attractions
,
Beverly Shores
,
Burns Harbor
,
Chesterton
,
Directory
,
Dune Acres
,
Historical
,
Indiana Dunes
,
Parks & Recreation
,
Porter
,
Porter County
,
Seasonal